We had a lot more magic and......
we had enough.
_____________________
Ready to GROOVE?
You've accessed a site that honors one of
rock-n-roll's most UNDERRATED groups...
Rock and Roll Hall of Famers
The Rascals
"Legends In Their Own Time!"

This page is dedicated to one of the great BANDS of all time.
And to the members of that group:
Eddie Brigati, vocalist, lyricist, and "THE" catalyst.
Felix Cavaliere, writer of beautiful melodies, vocalist and organist extrordinaire.
Gene Cornish, the guitarist from New York by way of Canada.
Dino Danelli, the soft spoken gentleman with the "sticks" that wowed the WORLD!
and the unheralded fifth...David Brigati, vocalist with angelic tones.

_______________________
Though they never brandished their politics
like some bands, the RASCALS truly lived theirs,
demanding that a black act appear on the bill
at each of its concerts. The principled stand cost
them dates in the South.
_______________________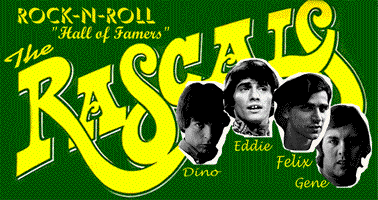 Want some Good Lovin'?
Oh for the pillow where my head used to lay
'Fore I left to be a grown man way back then
I miss the wooden kitchen floor
Painted brown to match the old back door
In my old Kentucky home where I belong
"Carry Me Back" - 1969